Rad Pads Cotton Starter Pack
0369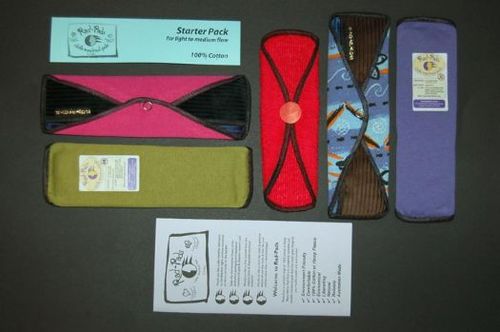 Cotton Starter Packs are designed to offer you a good starter range of Rad-Pads 100% Cotton Menstrual Pads while you feel out what you need, according to your blood flow and lifestyle, before ordering enough pads to last through a menstrual period.
Rad-Pads menstrual pads are "booster" type pads, with a 100% cotton cover with corduroy base and folded towelling inserts that let you control how much absorbency you need. The wings wrap around your gusset and clip together with press studs to keep the pad firmly in place.
Medium to Heavy flow Starter Pack
This starter pack contains:
2 Medium 100% Cloth Rad-Pads
2 Large 100% Cloth Rad-Pads
1 Regular wing shield liner
information brochure
The packaging is as environmentally friendly as the pads - the instructions are printed on 100% recycled paper and it is wrapped in bio-degradable cellophane.
Colours vary
100% cotton
Reusable
Comfortable
Economical
Washable
Environmentally friendly
Australian made