Patchouli Incense (20 Sticks) Hex Pack - HEM
0886P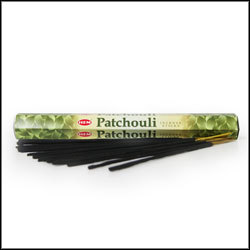 HEM Patchouli 20 x 9 inch hand rolled incense stick hex pack.
Patchouli is one of the most common incense fragrances, delivering a fragrance which resembles the essential oil of the Patchouli plant. Patchouli provides a naturally sweet fragrance filled with green notes and hidden floral scents.
Imported from India.