Fairy Dreams Incense (20 Sticks) Hex Pack - Kamini
0887FD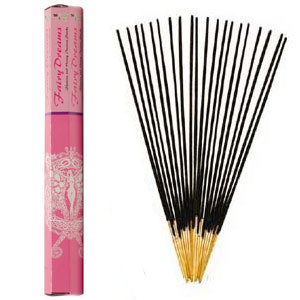 Jasmine and honey incense sticks.
Fairies love the sweet fragrance of jasmine that scents the night air, growing wild in a moonlit forest. Whilst honey produced by their friends the bees is their favourite flavour. Let this ethereal fragrance lift you away to a magical experience.
This 20g Kamini Fairy Dreams incense sticks hex box contains 20 x 9 inch hand rolled incense sticks with a charcoal base.
Kamini Aromatics is one of the most popular incense brands throughout Europe and Australia. This brand of Indian incense uses the finest natural raw materials which are dipped in high-quality perfumes to produce beautifully fragranced incense.
Made in India.