EASYpH Test Kit
0183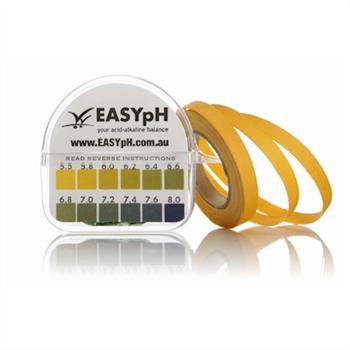 Test your own pH via your urine or saliva with this handy pH Test Kit.
More than 90 tests per kit
Choice of testing your urine and/or saliva
Instant acid-alkaline balance result
Easy to use
Accurate chart in 0.2 increments
Wide pH range (5.5 - 8.0)
The EASYpH test kit includes:
4.5m of litmus paper
easy to understand instructions on how to test your pH
an accurate 5.5 to 8.0 pH chart in 0.2 increments
a FREE booklet, valued at $5.00.
If you use 2.54 cm (1 inch) strips for testing, you can do 180 tests. Should you prefer to use 5.1cm (2 inch) strips, you have enough test paper for 90 tests, or you can use any number in-between, depending on what works best for your needs.
The booklet includes:
Your acid-alkaline balance
Weight loss tips
An acid-alkaline food chart
Articles by health industry experts...and much, much more!
Litmus paper refills are available without having to buy the entire kit again.
Options
Full Test Kit (0) Test Kit Refill (0)