iPillow
0007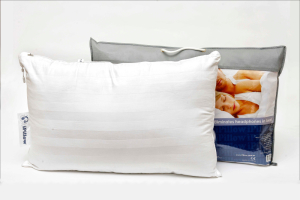 This innovative pillow with inbuilt speakers allows you to listen to high quality sound comfortably in bed without disturbing others. It's an excellent choice for using Sound Therapy with children under 4 years of age.
iPillow is a patented inbuilt speaker system that is unique. It combines a high quality sound within the comfort of a pillow and is virtually impossible to feel.
The iPillow can be connected to all types of electronic devices that have a headphone connection, including the Sound Therapy Mini MX player. No more uncomfortable headphones or ear buds in bed that fall out, and most importantly, no more annoying your partner or roommate with music while they are trying to sleep.
The iPillow is treated with Nature Plus to protect against dust mites, bacteria, mould and mildew.
The iPillow has not been endorsed by Sound Therapy International. Adults and older children wishing to use the iPillow for Sound Therapy should still do most of their listening through regular headphones.
The iPillow is only available in Australia at this time.