Worry Doll
0894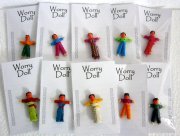 According to Guatemalan legend, if you tell your worries to a worry doll when you go to bed at night and then place the doll under your pillow, the doll will take your worries away so you can have a peaceful nights sleep.
Please note: These worry dolls are as unique as you are! Colours and styles vary with each doll (image is for guide purposes only)
The dolls have been lovingly made in Guatemala and are fair trade products.
The small dolls are approximately 20mm tall.
Size & Quantity
Small - Single (0) Small - 6 pack (0) Large - Single (0)