Wild Orange Essential Oil (15mL) - doTERRA
0869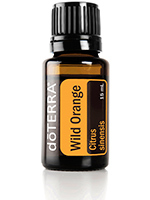 Cold-pressed from the orange peel, wild orange is excellent for energizing and revitalizing.
It is also commonly used as an effective tool for uplifting mood, as well as for its wonderful citrusy aroma.
Contains 100% pure therapeutic grade Citrus sinensis essential oil.
For topical, aromatic or dietary use.
Not in stock in our store? You can order doTERRA oils to be directly shipped to you from the warehouse.
Would you like to order this at Wholesale price?
If you are likely to buy several doTERRA essential oil products, you might like to consider signing up to buy them at wholesale price (25% off).