Why Aren't I Learning?
0001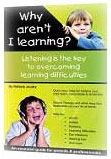 Why Aren't I Learning? offers drug-free solutions for children who aren't learning the way they should, plus great tips for helping all children learn more easily.
Today it seems that more and more children have learning difficulties, which means they struggle and fail where they should be progressing with natural ease. Teachers struggle to teach a class when several children with ADHD are making it impossible for anyone to concentrate.
This book offers treatments which are easy and cost effective, can be used at home, and will not add further stress to the familty. It offers solutions which are harmless and will not lead to further health problems.
Discover how the ear-brain connection can be activated by Sound Therapy, sensory integration, food desensitisation, and supplementation. Restore the basic building blocks of normal functioning and see your child's ability to learn change overnight!
Why Aren't I Learning? is for you if:
Your child has been prescribed drugs for learning difficulties
You are concerned by subtle signs of delayed development
You are a professional committed to helping children
You desire every advantage for your average or high achieving child
About the Author
Rafaele Joudry was educated in England and Canada where she completed a Bachelor of Social Work before emigrating to Australia. A strong interest in learning and child development fuelled her work in preschool education and family services before she founded Sound Therapy International in 1989.
She has since dedicated herself to research and public education on the subject of child development, environmental health and ear/brain function. As a leading Australian speaker and author she pioneered the groundbreaking technology of Sound Therapy, which she has brought to thousands of families around the world.
What's Inside?
This book is full of practical easy tips to help parents and teachers to facilitate children's learning
Learn how to
Handle temper tantrums, antisocial behaviour and aggression
Use Sound Therapy, a simple, effective program for parents to use at home
Help your children settle down, sleep well, and be calm and focussed
Stimulate brain connections so listening and learning become easier
Set your child up for good language skills and improve reading, writing and spelling
Use drug free, non-invasive methods to help children concentrate and learn
Make study and homework easy and fun
Create a nurturing, gentle sound environment for your babies and children
Use sensory integration therapies
Assist development and integration of the senses including auditory, visual, tactile, movement and balance
Use movement and balance activities to improve proprioceptive and vestibular function