Whisper Womens Blend Essential Oil (5ml) - doTERRA
0953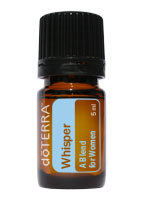 Containing the certified pure therapeutic-grade® essential oils of rose, jasmine, bergamot, cinnamon bark, labdanum, vetiver, ylang ylang, hawaiian sandalwood and patchouli, as well as cocoa and vanilla, Whisper's subtle fragrance, once applied, mingles with your individual scent, to enhance the essence into something that is all your own.
(Men, don't feel bad, Whisper makes an excellent cologne for men as well!)
For topical or aromatic use.
Not in stock in our store? You can order doTERRA oils to be directly shipped to you from the warehouse.
Would you like to order this at Wholesale price?
If you are likely to buy several doTERRA essential oil products, you might like to consider signing up to buy them at wholesale price (25% off).