Sound Therapy: Music to Recharge Your Brain
0006 Music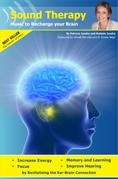 In the 1950s, Dr Alfred Tomatis (ENT) pioneered the use of sound to enhance auditory pathways and improve brain function. This discovery launched a new field of treatment called Sound Therapy, promising hope for those with tinnitus (ringing in the ears), chronic ear problems, fatigue, insomnia and learning difficulties.
Now in its fully revised and updated 12th edition, with over 50,000 copies sold, this is the fascinating story of how Patricia and Rafaele Joudry brought Sound Therapy to the wider public.
Due to sound sensitivity, Patricia's life was an obstacle course of fearsome noise. The resulting stress meant chronic exhaustion and years of insomnia.
Unexpected events led to a discovery that changed her life. Just a few weeks of Sound Therapy meant peaceful sleep and a new breakthrough in energy she had never dreamed possible. Since then, Sound Therapy has helped thousands and found its way by word of mouth to over 45 countries.
Recent discoveries about brain plasticity have thrown new light on the mechanism of Sound Therapy and how it may work to restore neural function in so many areas.
Patricia's story will inspire anyone who has suffered a noise related problem. Now with recent case histories, an introduction and new chapters by Patricia's daughter, Rafaele.
Read documented results for:
Tinnitus (ringing in the ears)
Chronic fatigue
Insomnia, stress and anxiety
Hearing loss
Sound sensitivity
Dizziness and Meniere's disease
Travel sickness and jet lag
ADD and other learning problems
Memory and concentration
This edition released in November 2009
ISBN 978-0-9579246-4-2
272 pages
Foreward to the First Edition by Yehudi Menuhin
I was fascinated by this book, which I read between dawn and breakfast in one sitting! I am prepared to believe that the therapy is a very valuable form of rehabilitation affecting more than the brain, important though that is. It also substantiates the value and use of music.
Music is the voice of the universe, it is the voice of humanity and is part of our existence. Good music is the harmonization of all the vibrations of which matter consists, and it restores us to ourselves and to our universe. It is the bond that we have between our own frequencies which vibrate millions of light years away.
When we hear music we are actually vibrating with the whole audience, and with the performer, and we are thereby put in touch with the composer's mind and heart.
I have always felt that music is basically therapeutic, restoring proportions which are squeezed out of shape by the pressures of the day. In a state of physical disequilibrium of the nerves or the mind, music can reach our subconscious and put things in place. And now this therapy is exploring a fascinating new approach to the inner human being. It comes at a time when we are literally being deafened by the rising noise level in our world. The decibel volume is growing with every year and is destroying our hearing and deadening us to our environment.
We seem to think that the ear is dispensable. We concentrate overwhelmingly on what is visual. Everything that we cultivate or build impresses the eyes, by size and colour and shape. We ignore the miracle of the ear, which conveys its message through a greater abstraction than sound. Sound goes directly into our bodies. What the aural can do to the inside of our brain, to the "within" of our lives, nothing else can do.
The use of the higher vibrations, as described in this book, opens a whole new world to us. Sound Therapy has a specific effect which seems to have wide implications and to yield undreamed of results. I believe that it constitutes a breakthrough to a new level of effectiveness in music and health.
Yehudi Menuhin
Violinist
1916 - 1999
Foreward to the Current Edition by Dr Donna Segal
As a Doctor of Audiology for 24 years, I understand the profound benefit of Sound Therapy. I am blessed to have come upon Patricia and Rafaele Joudry's mission through Sound Therapy. I have been using Sound Therapy for many years since I first became aware of their therapeutic treatment system.
Personally, I have experienced phenomenal mind, body and spiritual benefits from Sound Therapy. This ranges from alleviation of tinnitus in my left ear, fatigue, sinus and ear fullness, to concentration, improved sleep, reduction in severity of menopausal night sweats, TMJ and jaw stiffness, headache and neck tension and back pain. Listening to the system has allowed my body to hold my chiropractic adjustments longer as well as helped my muscles and co-ordination to flow more easily for yoga postures.
After becoming acquainted with Sound Therapy, I began studying the work of Dr Alfred Tomatis. I became fascinated with his theories and the applications of this specially filtered music to healing the synergistic state of one's being. This was a wonderful complement to my audiological education and years of clinical practice in further understanding the hearing system. As I delved further into his work, I developed a deeper understanding of the ear and the perceptual connection, through the vital importance of Sound Therapy to even voice quality and production, reading and writing and overall emotional health.
I recommend and use Sound Therapy with my patients in my private practice. The benefits patients report range from reduction in sound sensitivity to improvement in sleep and energy as well as "just feeling better." As I continue to use this easy self-guided listening system all over the United States and Canada, I hear about its benefits to the overall consciousness of our planet. As people become more balanced and at harmony within themselves it expands outwards to everyone they encounter.
I will continue to use Sound Therapy for the rest of my life. It has assisted me in helping release the lower frequency energy that our bodies tend to hold and then manifest in physical and emotional sensations - tinnitus being one of those. The benefits will vary for each individual person. Keep an open mind and attitude as you being using the therapy, as you experience the release of patterns that may no longer serve your higher good, and as your system rebuilds more effective ear-brain connections. You will experience changes on many levels. Take your time moving through the program. As you move through reading this book and the workbook, you will notice the benefits within yourself.
I have used many different sound therapy systems on the market. I have found this Sound Therapy System easy to use. It has a broad tange of benefits. Enjoy reading this book as Patricia Joudry takes you on a journey as she explains the Sound Therapy and its potential benefits and use. Whether you have specific challenges or just want to tune your system to optimal health, Sound Therapy is for you.
Donna Segal AuD CCC-A
Doctor of Audiology
Indianapolis, Indiana USA
Introduction
Sometimes when they're happening we don't recognize those fateful moments that change the course of our lives. So it was the evening in Paris when I had a "chance" encounter with a Canadian Doctor who was there to study with Dr Tomatis. I met this man, Gerard Binet, for a couple of minutes before going out with his flat-mate, and we idly chatted about what he was doing in Paris. Sound Therapy sounded rather intriguing. I'd never heard of being healed by sound! I almost didn't ask him if it would help my mother, but my friend took a little longer to get ready (the angels must have held him up), so I thought "why not?" and I asked "would it help my mother?". I told him about my mother who had a peculiar (I thought then) condition of being unable to have a conversation if there was any background noise. (I have since learned that his condition, dubbed by audiologists "the cocktail party syndrome", is extremely common.)
Dr Binet said with total confidence "Oh yes, it would cure that". I was rather surprised, but I got his number and wrote and told my mother. He was going back to open his Sound Therapy practice in Montreal where my mother lived, and it turned out she was one of his first clients.
The rest of the story is told in his book. The work of bringing Sound Therapy to the world in a compact, affordable and highly versatile package was laid out for my mother and me, or at least it was hanging on the branch of fate and we leaped and plucked it.
In my world travels I was guided to the next clue on our path. From Paris I adh moved out to Saskatchewan in Western Canada, and my mother had followed. It was there that she found the monks of St Peters Abbey who helped her begin what became a life's work for both of us, by I was by then living in Australia.
When my mother send me the first manuscript of this book, then entitled Sound Therapy for the Walk ManI read it with fascination and couldn't wait to try the program. I didn't have a problem like my mother's, but nevertheless got benefit for my sleep and my general well-being. I slept more soundly the first night and I continued to use the program every night for seven years. Now I listen most days while working at the computer, on long trips on during a stressful period. Sound Therapy helps to restore my inner equilibrium, creativity and concentration, whilst refuelling my energy. I am a testament to the fact that even if you have no severe problems, the benefits offered by this therapy over a lifetime are still worth a gold mine.
We were initially amazed at the results achieved not only by my mother but by thousands of others. Listeners reported relief of tinnitus, better hearing, improved communication and family relations, no more insomnia, dramatic increases in energy levels. People were being helped and the letters flooded in. Students claimed they could not have completed their degrees without Sound Therapy. Mothers told how their uncontrollable children had turned into little lambs and suddenly wanted to learn.
The therapy spread by word of mouth to forty-five countries in the first two years. When I saw the results others were having I realised this was too big a gift not to run with. So began my study of the ear, of tinnitus, chronic fatigue, ADHD, autism, speech problems and the many health and brain issues that Sound Therapy can help us address.
In 1993 I traveled across the United States and Canada and in New York met with Lynn Schroeder who, with Sheila Ostrander, brought Superlearning to the West and wrote several bestselling books on advanced learning methods. Dr Lozanov, the father of accelerated learning, like Dr Tomatis, found a way of making classical music into a vitally healing tool for modern times. I have since met and formed collaborations with dozens of practitioners, doctors, audiologists, and others who enrich our understanding of how music impacts on the brain. This book, introducing our method, has continued to sell and to be loved by our readers. I have now brought the book up to date, adding several chapters of my own with references to current science, and contributions by those with relevant expertise.
I love working with this method because it empowers the individual by placing a powerfully healing tool in their own hands. The deeply gratifying gift of this work has been to receive people's feedback and to know that someone has overcome chronic pain, or tinnitus - that maddening condition of ringing in the ears - or the social isolation caused by a hearing disorder, or that their child is now learning to read as a result of the help Sound Therapy has given them.
Rafaele Joudry
"He that hath ears to hear, let him hear."
Matthew 11:15
About the Authors
Patricia Joudry (1921 - 2000)
Canadian playwright, novelist and mother of five daughters, Patricia Joudry put Tomatis's Sound Therapy into the public arena in 1984 with her ground breaking book Sound Therapy for the Walk Man. She toured and lectured on Sound Therapy worldwide for 10 years, making the therapy available to thousands who could not have accessed it in a clinic. She then returned to full time writing and spent her final ten years in British Columbia.
Rafaele Joudry
Born in England and educated in Canada, Rafaele migrated to Australia in 1980, where she worked as a community developer for 6 years. She then joined her mother in launching the self-help Sound Therapy system and established Sound Therapy International in 1989. She has delivered over 500 lectures on Sound Therapy around Australia, North America and Europe, has given dozens of TV and press interviews and has authored three books on the subject.