Solumeric Stabilised Turmeric NEW FORMULA 60mL
0827N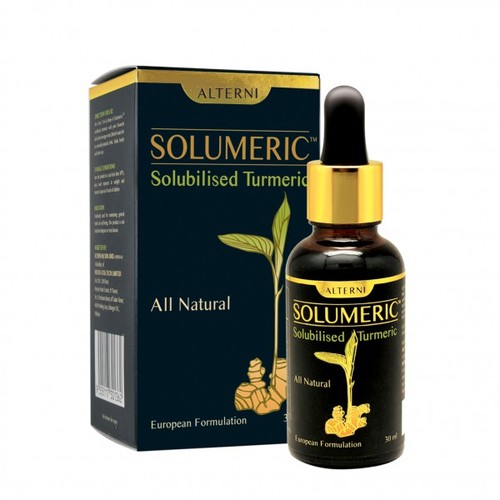 Curcumin extracted from Curcuma longa, commonly known as turmeric, is one of nature's most powerful and anti-inflammatory agents.
At its best, the amount of normal curcumin that is absorbed into the blood stream is less than 1%. Solumeric is 100% soluble curcumin developed with breakthrough technology to give it the highest possible bioavailability.
Turmeric is a natural long-term alternative suitable for various inflammatory, degenerative and infectious conditions including:
Joints and muscular pain.
Swelling and stiffness due to strenuous exercises or intensive labour.
Nasal congestion.
Free radical damage to major organ.
Illnesses and allergic reactions due to bacterial and viral infections.
Curcumin is the most biologically active component of turmeric and extensive research within the last half century has proven that curcumin's healing properties include:
Anti-inflammatory
Antioxidant
Antiviral
Antibacterial
Antifungal
Alterni's Solumeric uses a patented German technology which enables its curcumin to be fully water and fat soluble with a very high bioavailability and fast absorption rate into the human blood plasma.
Solumeric has been clinically proven to be absorbed 185 times better than normal curcumin. With a daily dose of Solumeric, you can get the equivalent benefit of taking 8g standard curcumin extract or 250g fresh turmeric powder!
Directions for Use
Mix 3-6 drops of Solumeric solubilised turmeric with your favourite dish before serving or into 200mL of water for an antioxidant packed drink.
It is recommended to start with 6 drops per day, and then use 1-2 drops a day for maintenance.
One bottle is contains a two month supply for an individual taking a maintenance dosage, or a one month supply on an initial dosage.
Ingredients
Water, permitted food emulsifier (E475), natural turmeric extract, glycerine (E422)
Product of Malaysia