PastTense Essential Oil Tension Blend Roll On (10mL) - doTERRA
0511P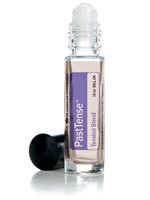 PastTense is doTERRA's proprietary blend for tension and the discomforts associated with headaches.
PastTense provides calming comfort with the strength of Certified Pure Therapeutic Grade essential oils. Apply the oil topically to the forehead, temples and back of neck as a massage for stressful tension and discomfort. After application, recline in a comfortable position with eyes closed and breathe in aroma deeply.
Packaged for convenient application in a roll-on bottle. For aromatic and topical use.
Ingredients:Gaultheria procumbens (Wintergreen) oil, Lavandula angustifolia (Lavender) oil, Mentha piperita (Peppermint) oil, Boswellia frereana (Frankincense), Coriandrum sativum (Coriander) Oil, Origanum majorana (Marjoram) oil, Anthemis nobilis (Roman Chamomile) oil, Ocimum basilicum (Basil) oil, Rosmarinus officinalis (Rosemary) oil.
Not in stock in our store? You can order doTERRA oils to be directly shipped to you from the warehouse.
Would you like to order this at Wholesale price?
If you are likely to buy several doTERRA essential oil products, you might like to consider signing up to buy them at wholesale price (25% off).