Organic Maca Powder - Planet Organic
0603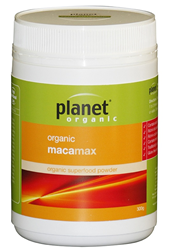 Maca Root (also known as Peruvian Ginseng) is a traditional Inca superfood used to boost vitality.
Contains easily digestible essential nutrients
Rich in bio avialable proteins
Rich in calcium, phosphorus and potassium
Contains many trace minerals and vitamins
Traditionally used to provide energy
Gluten free
Certified organic
Ingredients
Certified organic maca root powder.
Packed in Australia; contains imported ingredients.
NUTRITION INFORMATION
Servings per pack 100
Serving size 3g
Per serve
Per 100g
ENERGY
11.1kJ
370kJ
PROTEIN
0.021g
14g
FAT, TOTAL
66mg
2200mg
CARBOHYDRATE
2.28g
76.2g
- SUGARS
1.0g
32.7g
Contains:
Vitamins: B2 (riboflavin), B3 (niacin), B6 (pyroxidine), C
Minerals: Calcium, Copper, Iron, Iodine, Manganese, Phosphorus, Potassium, Sodium, Zinc
Amino acids: Alanine, Arginine, Aspartic Acid, Glutamic Acid, Glycine, Histidine, Isoleucine, Leucine, Lysine, Methionine, Phenylalanine, Proline, Serine, Threonine, Trytophan, Tyrosine, Valine
Quantity
125g (0) 300g (0)