Oregano Essential Oil (15mL) - doTERRA
0916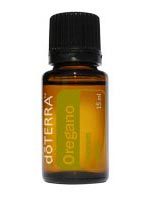 Oregano is a member of the mint family, and is often described as nature's most potent antiseptic.
Oregano oil as one of the strongest known anti-inflammatory substances and is also an excellent lymphatic stimulator.
Because of its strong anti-bacterial, antiseptic and anti-viral properties, it is often used for candida and fungal infections.
Please note that Oregano it is a very "hot" oil, so dilution is a carrier oil is recommended, especially for ingestion.
Contains 100% pure therapeutic grade Origanum vulgare herb oil.
For topical, aromatic, or dietary use.
Not in stock in our store? You can order doTERRA oils to be directly shipped to you from the warehouse.
Uses of Oregano essential oil
Because it is so highly concentrated, a little bit goes a long way!
To fight infections, place one drop of oregano oil, diluted in 1 teaspoon of agave, honey or maple syrup, under the tongue, twice a day.
To apply topically to infected areas, dilute 1 teaspoon of oregano oil in 2 teaspoons of fractionated coconut oil and apply with a cotton swab, up to three times a day.
For use in the bath, mix 1-3 drops of diluted oregano oil with body gel or shampoo and add it to the bath water. Never just add this oil to the water, as it will "puddle" on the surface and can burn sensitive tissues.
As an antiseptic, diluted oregano oil can be used in cloths to wipe down kitchen and bathroom countertops.
Would you like to order this at Wholesale price?
If you are likely to buy several doTERRA essential oil products, you might like to consider signing up to buy them at wholesale price (25% off).