NZ Barley & Wheatgrass Blend - Lifestream
0999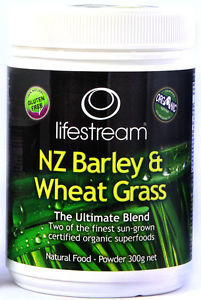 The ultimate blend of two of the finest sun-grown certified organic superfoods.
Lifestream Barley & Wheat Grass is made from the young leaves of 100% pure New Zealand South Island grown, certified organic barley and wheat grass plants. It is a pure combination of 50% barley grass and 50% wheat grass.
This wholesome blend combines the goodness of both these plants which contain naturally occurring minerals, vitamins, chlorophyll and dietary fibre in a perfect "nature-made" blend.
Lifestream Barley & Wheatgrass provides a healthy greens boost to help complement and alkalise your diet. Only the gluten-free fresh leaves at the top of the plants are harvested. Thisi means all the natural plant fibres are retained and there is no gluten present.
Gluten free
Dairy free
No artificial additives, fillers, drying or bulking agents
100% vegan and vegetarian
No GMOs
Certified organic
Lifestream Barley & Wheat Grass is grown on a farm with over 24 years Certified Organic status and is recognised as one of the leading producers of organic grasses in NZ.
The leaves are harvested at peak potency and then gently flash-air dried within minutes to ensure the nutrients are not damaged or compromised. This also ensures a rich chlorophyll content is achieved which is a key indicator of quality. The leaves are milled to an ultra fine particle size to ensure easy mixing and absorption.
Ingredients
Certified organic wheat grass powder (50%), certified organic barley grass powder (50%).
Product of New Zealand.
Quantity
150g (0) 300g (0)