Juniper Berry Essential Oil (5mL) - doTERRA
1132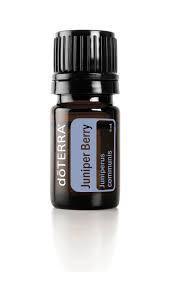 Juniper Berry is derived from a coniferous tree, and its essential oil has a rich history of use as natural cleansing agent, both internally and externally.

Juniper Berry essential oil supports healthy kidney and urinary tract function, and is beneficial for the skin, reducing the appearance of skin blemishes and acting as a natural skin toner.

Contains 100% pure therapeutic grade Juniperus communis oil.
Juniper Berry Essential Oil Usage Tips
doTERRA Juniper Berry Essential Oils is for topical or aromatic use.
Add 1-2 drops to water or citrus drinks as part of a natural cleansing regimen.
Apply 1 drop to your skin to promote a clear, healthy complexion (dilute with Fractionated Coconut oil to minimize any skin sensitivity).
Diffuse with citrus oils to freshen and purify the air and to lessen stress.
Diffuse on its own for positive feelings.
Juniper Berry blends well with Grapefruit, Beragmot or Cypress.
Not in stock in our store? You can order doTERRA oils to be directly shipped to you from the warehouse.
Would you like to order this at Wholesale price?
If you are likely to buy several doTERRA essential oil products, you might like to consider signing up to buy them at wholesale price (25% off).