Evohe Bamboo Face Cloth
0122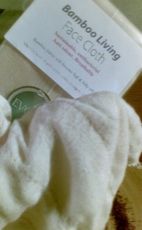 Soft yet slightly abrasive these hygenic Bamboo Face Cloths are a great addition to your cleansing regime.
Bamboo fibres are known for their Antibacterial qualities and are therefore more hygenic than traditional fabric used for face cloths.
The fabric is soft yet slightly abrasive giving a gentle, stimulating exfoliation as you cleanse.
Great for sensitive skin or skin prone to breakouts or irritation.