Epsom Salts (1kg)
0186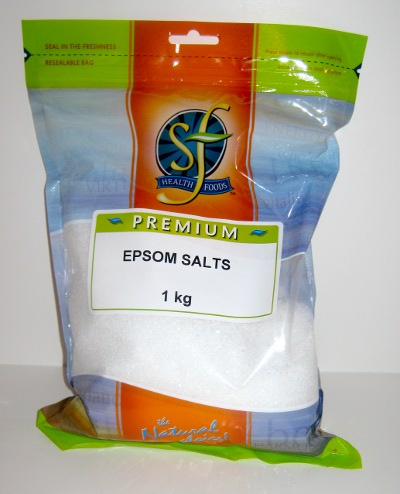 Epsom salt (magnesium sulfate) is a naturally occurring mineral that is found in water.
Ingredients: Epsom salt (magnesium sulfate)
Brand: SF Health Foods
Country of Origin: Australia
Alkalinity: Alkaline
Inexpensive and versatile, the salts can be used for healing and improving the quality of the skin. Primary uses are for healing bruises and sore or strained muscles, overcoming constipation, washing oily hair, and exfoliating the body.
Soak a splinter in Epsom salts to release the splinter and help the area to heal
Add 2 cups of Epsom salts to a full bath and soak in it for 20 minutes to relieve tired feet, sore back muscles or legs, or just as a way to have softer skin or to destress.
Rub Epsom salts all over the body while showering or bathing, then rinse and dry off, to exfoliate the skin and leave it smooth and silky.
Mix Epsom salts with oil and keep by the basin to use on the face and hands to treat dry skin problems.
For oily hair, add 8 tablespoons of Epsom salts to a half a cup of shampoo. Put a tablespoon of the mixture on dry hair and work it in and around the scalp area, rinsing it out with cold water.
For constipation, mix 2-4 teaspoons of Epsom salts into water (or 1-2 teaspoons for children aged 6-12) until dissolved and drink. This can be used twice a day, with 4 hours between doses. (For ongoing constipation, consider an alkalarian diet)