Cardamom Essential Oil (5mL) - doTERRA
1113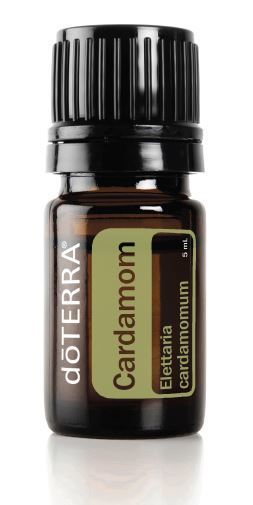 Cardamom is a flavourful spice for cooking and baking for a great Indian flavour.
As well as tasting good, Cardamom has some health benefits related to digestion, particularly for easing indigestion and maintining overall gastrointestinal health.
Cardamom also promotes clear breathing and helps maintain respiratory health.
Contains 100% pure therapeutic grade Elettaria cardamomum oil.
Cardamom Essential Oil Usage Tips
doTERRA Cardamom Essential Oil is for aromatic, topical or dietary use.
Take 1-2 drops internally to help alleviate feelings of stomach discomfort after eating.
Breathe in for a clear head and feelings of mental clarity.
Apply to the chest while planting flowers or cutting grass.
Add one drop to a steak marinade.
Cardamom blends well with Lavender and Clove.
Not in stock in our store? You can order doTERRA oils to be directly shipped to you from the warehouse.
Would you like to order this at Wholesale price?
If you are likely to buy several doTERRA essential oil products, you might like to consider signing up to buy them at wholesale price (25% off).