Australian Bush Flower Essences (15ml) - Living Essences
0623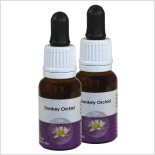 Living Essences are world leaders in the research of Mind-Body flower essence health products.
Being derived from nature within the natural pristine landscapes of Australia, their purity and potency is assured.
Medical science now recognises that stress and negative mind states can alter body chemistry and create physical disease.
For instance recent medical studies prove that depression is a greater cause of heart disease than smoking. Researchers found that in depressed people the blood platelets became more sticky, clogging arteries and veins. Depressed people lose hope, they view life from a negative perspective, lacking optimism and positivity.
The formulas and understanding of the Mind-Body healing qualities of flowering plants come from research carried out by the Living Flower Essence Academy of Australia (LiFE).
The mind is powerful in its ability to effect our personal health and that of the environment for good or bad. When it is open to the inspiration of the higher consciousness, the health and welfare of ourselves and our planet is assured.
Balga (Blackboy)
For the maturing of the male principle or the man within. For both men and women the promoting of positive creativity that also nurtures an awareness of the needs of the environment while achieving goals, Helpful in balancing achievement with life sustaining qualities such as caring and community and family spirit.
Negative Keywords aggressive due to masculine immaturity, destructive due to masculine immaturity, immaturity, masculine, insensitive due to masculine immaturity
Positive Keywords assertiveness, balancing, creativity, maturity
Brown Boronia
To inspire the realisation that the journey of life will bring solutions, one needs patience and acceptance of the "here and now". For those who are worried and therefore miss out on joy. Helpful in relieving stress and sleeplessness caused by worry.
Negative Keywords anxiety due to excessive concern, obsessive due to excessive concern, sleeplessness due to excessive concern, worry due to excessive concern
Positive Keywords acceptance, free, patience, release
Geraldton Wax
To strengthen oneself so as not to be pressured against one's will, or be routinely influenced by the desires of others who focus on you. Helpful for dominant/submissive relationships and for adolescents succumbing to peer group pressure.
Negative Keywords dominated due to lack of inner strength, influenced due to lack of inner strength, obligatory due to lack of inner strength, pressured due to lack of inner strength
Positive Keywords independent, inner strength, Self assured.
Yellow Leschenaultia
For stimulating open-mindedness which then receives knowledge and the concepts of others. This essence calms the mind and dispels the illusion that we hear even when we don't listen. The message people are trying to convey is then fully understood and relationships with others improve dramatically. Helpful with learning difficulties in children and adults including autism and attention deficit disorder. In learning not to assume that one does know, full expansion of consciousness is possible.
Negative Keywords arrogant due to intellectual insensitivity, dismissive due to being an intellectual know-all, impatient due to being an intellectual know-all, insensitive due to being an intellectual know-all, intolerant due to being an intellectual know-all
Positive Keywords learning, listening, open, understanding, wisdom
Essences
Balga (Blackboy) (0) Brown Boronia (0) Geraldton Wax (0) Yellow Leschenaultia (0)