Arborvitae Essential Oil (5mL) - doTERRA
1072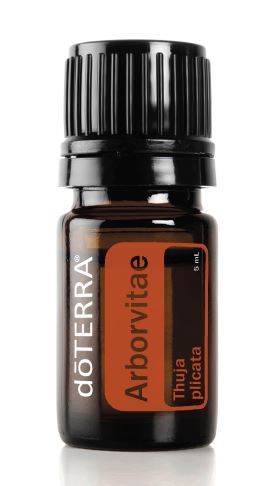 Arborvitae ("tree of life") is a warm, woody oil which protects against environmental and seasonal threats and promotes healthy cell function.
Arborvitae oil is a powerful cleansing and purifying agent and is a natural insect repellent and wood preservative.
Contains 100% pure therapeutic grade Thuja plicata oil.
Arborvitae Essential Oil Usage Tips
doTERRA Arborvitae Essential Oils is for topical or aromatic use.
Mix 4 drops of Arborvitae essential oil and 2 drops of Lemon essential oil with a carrier oil (such as fractionated coconut oil) for a natural wood preservative and polish.
Apply to wrists and ankles while hiking.
Add a few drops to a spray bottle with water and spray on hands or surfaces for a protecting solution.
Diffuse to purify the air or for a grounding aroma.
Use during meditation for a sense of peace and calm.
Mix in with mulch while gardening.
Create your own cologne with Cedarwood, Arborvitae and Frankincense.
Not in stock in our store? You can order doTERRA oils to be directly shipped to you from the warehouse.
Would you like to order this at Wholesale price?
If you are likely to buy several doTERRA essential oil products, you might like to consider signing up to buy them at wholesale price (25% off).