Antioxidant Skin Recovery Spray (175ml) - Dr Wheatgrass
0776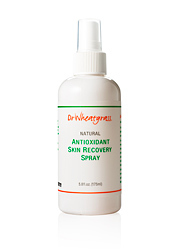 Dr Wheatgrass Antioxidant Skin Recovery Spray contains a highly concentrated, stable extract derived from NASAA approved organically grown wheatgrass sprouts at their bioactive peak. This amazing product is one of the most significant advances in natural skin health, enhancement and recovery this century.
High levels of naturally occuring antioxidants - vitamins A,C and E, phytosterols, bioflavonoids and amino acids - give vitality to normal, chapped, cracked or rough skin and assist recovery.
Antioxidant Skin Recovery Spray is ideal for skin rehydration, before and after sun and wind exposure, pre and post waxing and after shaving. Evidence also shows that it may help delay the appearance of ageing.
Suitable for all ages and safe for use during pregnancy, while breastfeeding and trying to conceive.
Made in Australia
No animal testing
Naturally derived ingredients:
Water, vegetable glycerin, Triticum vulgare (wheat) sprout extract, citrus aurantium amara extract.